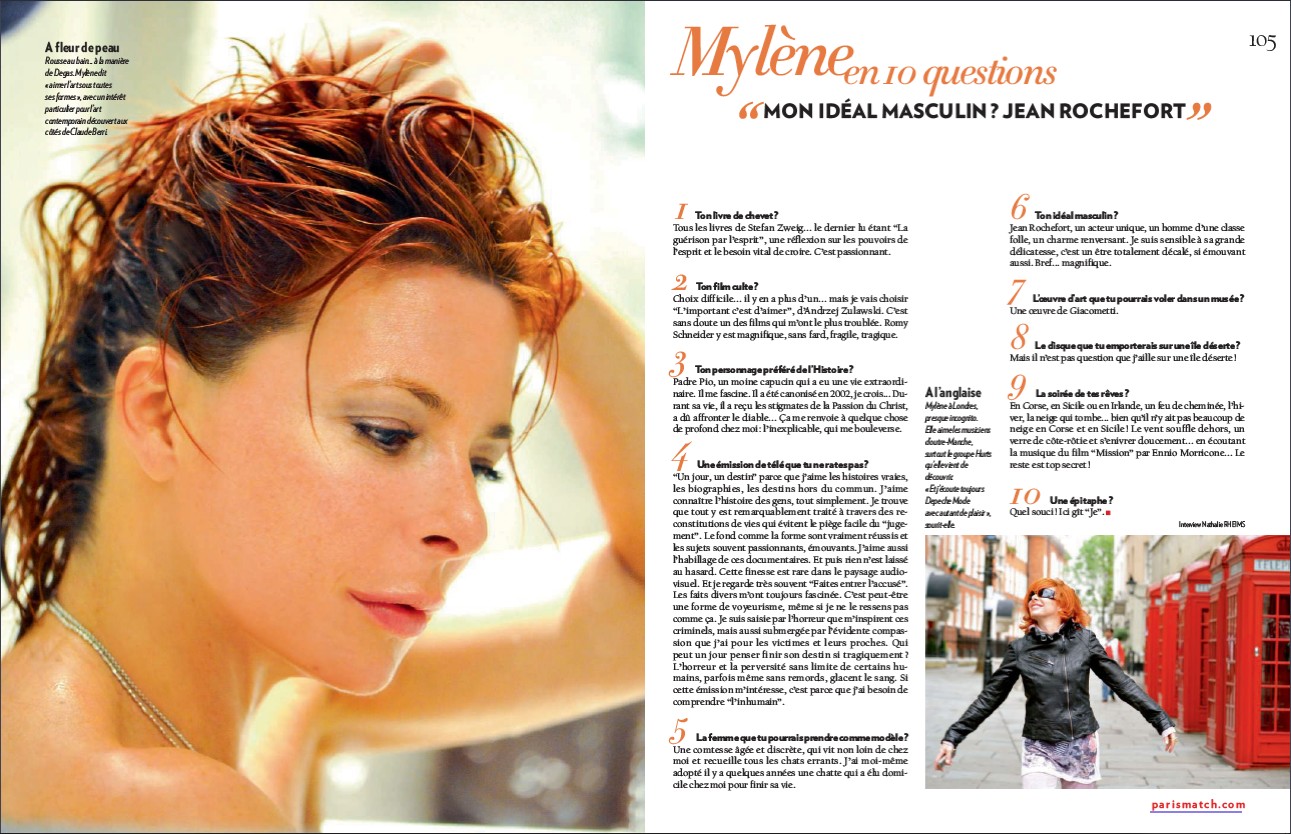 以下英訳になります。
Mylène Farmer: the important thing is to love
Mysterious, she fears the gaze of others, but for the release of his album "Blue Black", she confided in us.
An interview with Nathalie Rheims.
Interview by Nathalie Rheims:
Paris Match. You've never been so beautiful and fulfilling. -Do you have beauty secrets?
Mylène Farmer. The only important thing is to love and be loved. That is the only certainty I have today. And the beauty depends on the look that we put on people. When this look is that of a loved one or simply that of benevolence, it acts as a balm enchanting. The chance given to me to live in harmony with what I do is so my beauty secret is a fragile bond that I am trying to both challenge and protect.
What are you able to do today and you could not do yesterday?
Face looks when I walk into a public place without wanting to flee the place in the split second. Suffer from a lack of confidence, a shyness that sometimes you go to someone remote, cold, is not a key asset to a business audience. Yet, long ago, I had no choice but to overcome my fears and overcome them, do not be - or more - the hostage. When I think is incredibly violent to overcome this handicap ... Only people who are real timid can understand that by which one passes to get there.
"Blue Black" is the first album you do not Laurent Boutonnat. Why did you get away from him?
I did in any case far from him. After the tour and concert at the Stade de France, it operates a frightening downward spiral despite the success, a sidereal space, a lack. You receive so much love, vibrations, so many sensations that give you the urge to write .... Laurent has quite understand my need to create. It is also, of complicity. We meet for the next album.
Did you realize that this album is darker than the previous?
No ... not really ... This album, like its title, "Blue Black", says, going from light to dark then the dark. Or conversely, I do not know.
"Corsica is my refuge"
It tells you lonely or reclusive. Working with a new team it was a complicated job?
I adapt to new ways of working if indeed you respect my bubble, my silences as much as I respect myself another. I'm a loner. But I also have a great need for others and I reject the term "recluse" ... When I'm choking, I take a train, a plane and go see other skies ... It's a freedom, a chance invaluable to travel when I feel the desire or need. Faced with a landscape of snow, I am moved. I grew up in Canada, I am confident that this attraction to the pristine landscape just there. The cold has a very particular smell, a sound of his own. I found this same feeling when I went to see Russia Saint Petersburg in winter. Along the Neva, the canals were frozen ... watching Catherine II of Russia ...
Other places you love?
Corsica is my refuge. The day came, the temptation could be Tuscany. To pacify the hills of olive trees and vineyards ...
Biographers write your own photos on you. Why do you hide?
I have no biographer is probably why they are the same shots.
In what has been written about you, what made you smile the most?
I heard about tomato juice bath, which would have led to an "attractive phobia" blood, and coffin-bed. I think all fantasies make me smile when he's not my family or my privacy. Yet when I reported the gossip of a game show host, for my supposed playback on stage, I end up asking me if I do not prefer the equally false history of the tomato juice. It's amazing how some people feel grown by denigrating, trying to hurt ... It is often people who dream of a better life. Must still be up to par. I believe in the virtue of modesty. Criticism is necessary rudeness, unnecessary.
Are you obsessed with the idea of leaving a trace of you after your death?
Obsessed, no. The time now I care. ... Leave a trace in the heart of some people, I hope so.
What would you like us to say to you?
"It was a great astronaut."
What view do you wear on the French variety? Who is the artists that interest you?
Stromae I discovered this young artist really original. I love his song "So we dance," her figure, her phrasing and timbre of her voice so special. He said serious things lightly.
Why did you record a duet with Line Renaud?
I met her at a dinner and, as everyone seems to say, when you cross the Blue Line light ... a certain magic. It's a beautiful woman, shifted and charming. I'm instinctive desire prevails in these times. His energy is impressive-vital. But it's also someone who doubts is imperceptibly but touching.
You sail continuously between Eros and Thanatos. Love and death are they your only two sources of inspiration?
There is also the solitude. Isolation. I tried the joy of living, but it did not work!
The policy does interest you? Do you esteem for those who govern us?
I respect the courage of all those who accept this heavy responsibility not to abuse their power.
What is your ideal image of the couple?
Simone de Beauvoir and Jean-Paul Sartre: intelligence accomplice.
How do you imagine in ten years?
Elsewhere ...
"Up on stage at least one last time"
Your last tour was a triumph, do you see back on stage?
Yes ... at least one last time!
Could you give up one day to the song? At the scene?
How to give and those we love? But I have to-learn ...
At your gigs, you attach particular importance to designers: are you looking for new talent, new brands, new inspirations?
When it comes to preparing a show, yes. This choice is always tricky. It is not enough to make the "seam" is not a fashion show. The designer must also be able to transfer the costumes for a scene, which will integrate as a decor, lights, a universe to make everything smooth. It must then meet with designers inspired and willing to blend into the world of the artist, so that it does not disappear behind the suit, precisely, but feels like a jewel ... I'm not sure all fashion designers are able to do, it takes a lot of humility ...
______________
"Mylène 10 questions"
1. Your favorite book
All books by Stefan Zweig ... the last being read "Healing by mind," a reflection on the powers of the mind and the vital need for connection. It's exciting.
2. Your cult
Difficult choice ... there are more than one ... but I'll choose "The important thing is to love" by Andrzej Zulawski. This is probably one of the movies that disturbed me the most. Romy Schneider is wonderful, unvarnished, fragile, tragic.
3. Your favorite character from history
Padre Pio, a Capuchin monk who had an extraordinary life. It fascinates me. He was canonized in 2002, I think ... During his lifetime he received the stidmates of the Passion of Christ, had to face the devil ... It takes me back to something deep in me: the inexplicable that upsets me.
4. A TV show that you do not rat
"One day your destiny" because I love true stories, biographies, extraordinary destinies. I like knowing the history of people, simply. I think everything is remarkably treated travaers reconstructions of life that avoid the easy trap of "Judgement."
The bottom like shape are really successful and exciting topics often, moving. I also like dressing for his comments. And nothing is left to chance. This smoothness is rare in the media landscape. And I look very often "Bring the accused." News items have always fascinated me. That may be a form of voyeurism, even if I do not feel like that. I am struck by the horror I feel for these criminals, but also overwhelmed by the obvious compassion I have for the victims and their relatives.
Who can think of one day finish his destiny so tragically? The horror and perversity of some human beings without limit, even without remorse, chill the blood. If this show interests me is because I need to understand "I'm human"
5. The woman you could take as a model?
An elderly countess and discreet, who lives not far from my house collect all the stray cats. I myself some years ago adopted a cat who makes his home at home to end his life.
6. Your ideal man?
Jean Rochefort, a single actor, a man with a classy, stunning charm. I appreciate his great delicacy, is a totally shifted so touching too. Anyway ... beautiful.
7. The work of art that you could fly in a museum
A work of Giacometti
8. The disc that you take with you on a desert island
But there is no question that I go on a desert island!
9. The evening of your dreams
In Corsica, Sicily and Ireland, a fireplace, winter, snow falling although there was not much snow in Corsica and Sicily! The wind outside, a glass of Cote Rotie and gently drunk ... listening music from the movie "Mission" by Ennio Morricone ... The rest is top secret!
10. An epitaph
What worries! Here 'I'.
Thank you to Nathalie Rheims for allowing Mylène to reveal a little ...
ということで長くなりましたが、気になるのはやはりミレーヌ本人の口からコンサートに関して
「Oui… au moins une dernière fois !(Yes ... at least one last time!)」と語られていることでしょうか?
他にもコルシカは隠れ家であるとかかなりの情報量。
ということで各自で理解した方がOK?(時間のある時じゃないと頭に入りません)
ちなみにParis Match n°3211はすでに注文いたしました(苦笑)